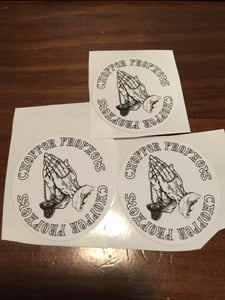 $

3.00
Nothing new about a praying hands sticker, but these are different. All the rich kids have bought up the Pans and Shovels. That leaves us poor kids with Evo's and Twin Cams.
Snatch a pack of these "Pray for Chop" stickers and slap them up wherever you want. Hell, slap one on a rich kids bike if you want.
Here's what you get:
1 pack of (1 1/2" Oval) 6 stickers = $3.75 (.75 to cover postage)
Limited Edition. When they're gone, they're gone.